Quilts and Quiltmaking
Quiltmaking was my way into textiles. As a child I was introduced to wonderful jewel-like fabric leftovers from Liberty's in London which had been made into a small traditional hexagon patchwork. I love the idea of making something new out of scraps. Nowadays I tend to dye all my own fabrics and use print and other exciting surface embellishment. My work is by machine because it is so much faster, but I still respect all hand work.
Blowing in The Wind – Hundertwasser 1 – Transformed Traditional – Pathways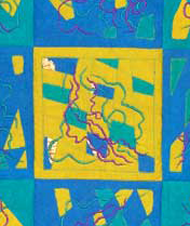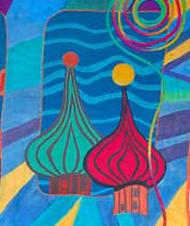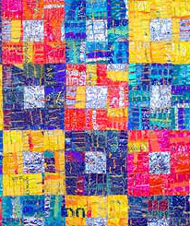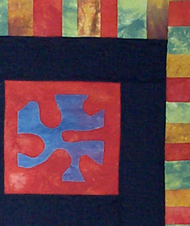 Blowing in The Wind
Following a workshop that I attended, I was interested in using the methods that I had learned with reverse appliqué. I layered three of my hand dyed and printed fabric, designed a geometric pattern on backing fabric, and stitched 9 small panels. After joining these, I used satin stitch to add design on the front. I actually worked three pieces in this series (unlike me!)
Hundertwasser 1
I fell in love with the work of Hundert-wasser many years ago, when I discovered a book about him in Cambridge and just had to buy it. On a wrapping workshop we were asked to design something for a colourful figure. Well I had my inspiration, and out of my head designed a curvy window with a plant growing out of it - concepts that I knew Hundertwasser had used.
Later I developed the idea into a quilt. I researched his work and refined ideas, then I did a paper full sized mock up, dyed all my fabrics, and got down to interpreting the design. I used wrapped aquarium pipe for the tree and a lot of fused fabric for the designs. it is machine pieced and quilted with clear filament.
Transformed Traditional
A weaver friend of mine devised a method for weaving recycled strips of plastic, paper and fabric. We had a wonderful evening playing around. At that time the Quilters' Guild was mounting an exhibition on the theme of 'Transformed Tradition'. I used old plastic carrier bags and some holographic wrapping paper as the bases for different coloured traditional nine patch blocks - my family thought I really was turning into a bag lady.
There were quite a few technical problems but I was pleased with the result. However, I was disappointed that it was not accepted for the show.
Pathways
This large quilted wallhanging (about 4' x 5') was based on the idea of designing blocks by taking a wandering line on and off a sheet of paper so that the lines that are on the paper have some form of unity. This is not my own idea and most people think it is a jigsaw quilt anyway. Again hand dyed fabrics (except for the navy blue) and machine quilted with clear filament.
Seeds of Time – Colours of Life 1 and 2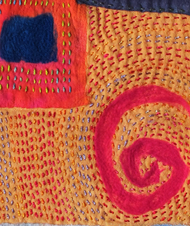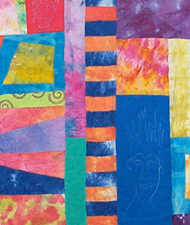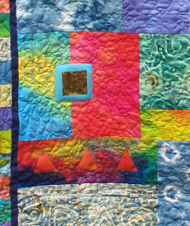 Seeds of Time
This is a quilt by definition of being three layers but obviously is heavily worked by hand using a running stitch which could be linked with quilting or with Indian Kantha work. This took many hours to achieve. Again, hand dyed fabrics for the ground, and there has be a small amount of felting of shapes on top - I think I used the embellisher.
Colours of Life 1 and 2
I rather like the concept of these two quilts. They are to celebrate life and are formed from lots of pieces of fabric left over from past projects, so they resemble traditional patchwork in being made of leftovers - a sort of double take. As you can tell, colour is one of the most important aspects of my work.