Seascapes 2013
This year I have been researching and developing work based on the subject of renewal, especially using the metaphor of the sea. This verse summarises so much about really looking and seeing.
'To see the world in a grain of sand,
And a heaven in a wild flower,
Hold infinity in the palm of your hand,
And eternity in an hour'

William Blake – 'Auguries of Innocence'

I began my research looking at the sea, the movement of waves, the light reflecting off them and the patterns left on the sand. I took many photos, made sketches
(some can be seen on the photograph page
), did sketches and just absorbed the smell and sounds of the sea.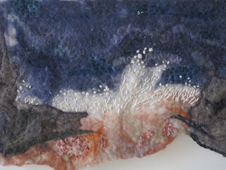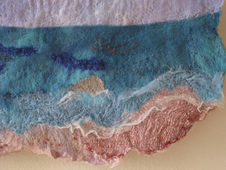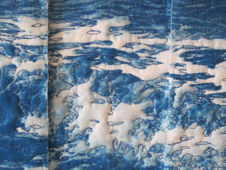 My work then developed in three ways.
Shoreline 1
Firstly, I continued with my love of felt making and designed a piece in wet felt based on a sketch painting. During the course of felting my neat design became rather Turneresque which I loved and was so much better than my measured start. I then had enormous fun stitching into the felt bringing it to life. I often worked on the beach trying to imbibe some of the magic of the sea to transfer to the piece.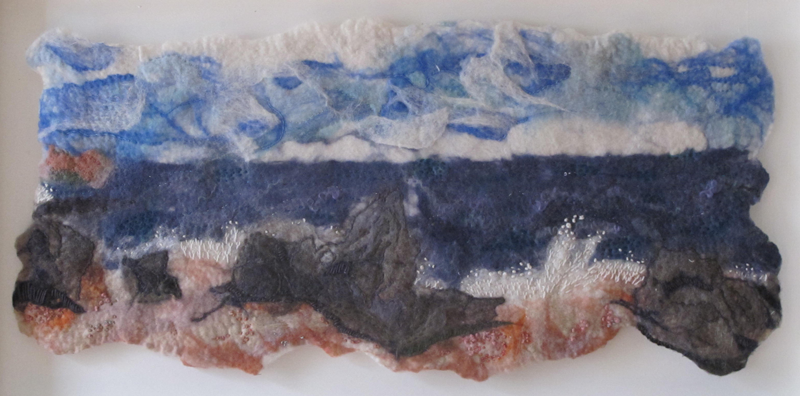 Shoreline 2
Secondly, I continue to use the embellisher to build up backgrounds using my own dyed fabrics. I then stitch into these, again working in various places, most often not far from the sea.

Work in Progress.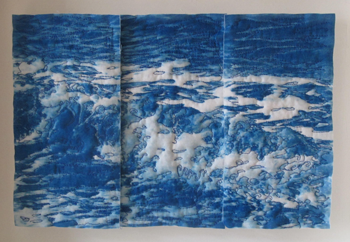 Thirdly, I am following a completely new path based on the use of cyanotype chemicals and UV light. I select some of my sea photos, manipulate the image in Photoshop to gain a negative (just like the ones we used to have from shop processed photos) and have this commercially printed on acetate. I did try doing it at home with my husband's help but they were best using the laser printer and the command from the manufacturer when we asked them about it is was 'Stop on pain of death'. Meanwhile I treat different fabrics, but mostly cotton with the chemicals, and dry it out. The acetate negative is then placed on top and a UV light shone through it. Many, many experiments have been partly logged in my samples and thoughts book which I was asked to make for the pop up exhibition. 'Voyages of Renewal'
Experimentation with stitching and quilting followed and the first final piece is 'Wavebreak 1' . I feel there is a long path to explore using this method.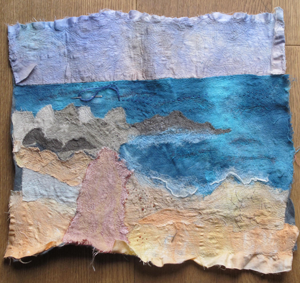 More Inspiration - The exhibition 'Eblouissants Reflects' – water, Impressionists and Photography at the Musée des Beaux-Arts de Rouen explored the depiction of sparkling water both in paint and in early photography. I felt empathy with what these artists were trying to achieve. The exquisite works of photographer Gustave Le Gray were a great inspiration, which is helping me develop much of my own new work.
Whilst considering spiritual and physical renewal as I watch the sea receding over pristine sand, I also think that the sea may well offer a way forward with renewable energy it could provide ever constant wave power. This source of energy has been there ever since the earth existed, man of all ages has watched it in its consistency and feared it in its rage, now man may watch it with a new intent.