Feltmaking
When I was taught to make felt we used standard wool and it was a long hard process needing lots of elbow grease and patience - even treading in the bath sometimes. Now we use marino tops and it is so much easier. I still like to dye mine and rarely use pre dyed wool as I love to choose my own colours. I use acid dyes and have developed a method using tops in cling film.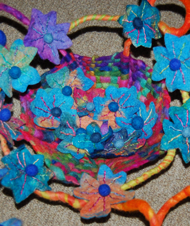 Stela
After a fantastic trip to Peru I designed this large felt piece (about 4' x 1.5') based on the shape of a stela that we saw in the museum in Lima and motifs taken from the Nazca lines which we had flown over. The mixture of amazing flora and jungle with the sense of such an ancient past made a deep impression on me. Hand dyed wool, hand felted and stitched.
Spring Into Summer
In this piece I was inspired by a book on felting to felt around wire in order to gain a 3D type mobility in it. The flowers were made separately embroidered and added later. The interior was woven.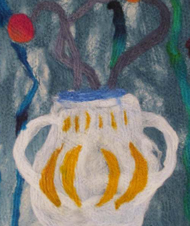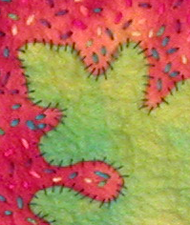 Embellished Vase
This is a picture before I sewed into it. It was a simple picture - I love the red flowers.
Interchange
This is an experiment in using Mongolian felt design methods where they cut a shape through two different pieces of felt then swap them and sew them in.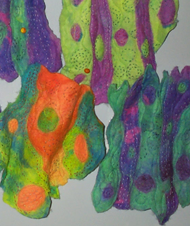 Dancing Shapes
This piece was a development from the last one. I interchanged circles and then sewed it to wireform in order to make it 3D. As virtually always, I used hand dyed wools used for the felting.